The Books
Doug Johnston is a serial author.  Thriving in Conflict, How to Build a Robust Culture of Feedback, was released in September of 2019.  Exponential Leadership, Formulating YOUR Leadership Impact was released in September of 2017. 
More books are coming.  Below is a summary of the books, which can be found on Amazon and at other popular retailers.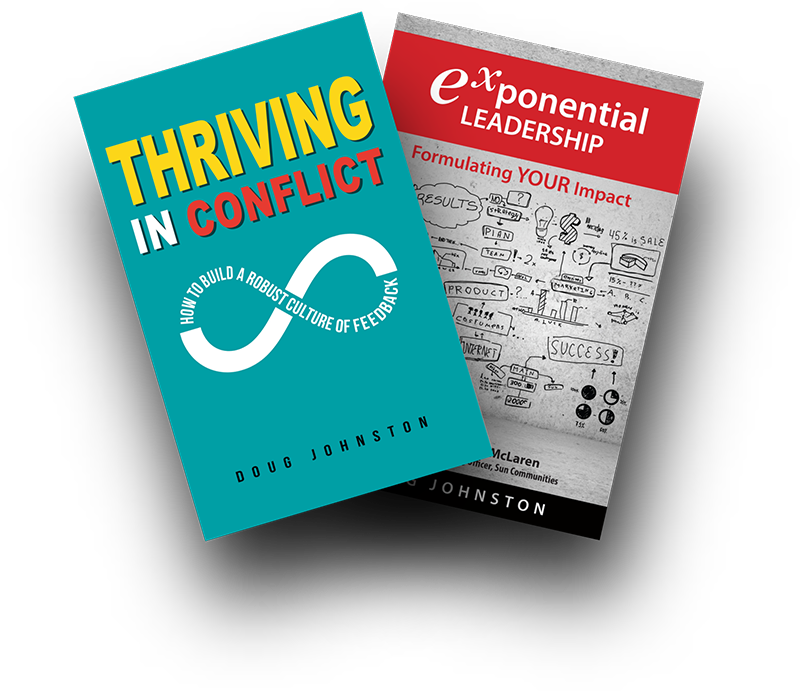 Thriving In Conflict, How to Build a Robust Culture of Feedback
"Thriving in Conflict" follows the story of a bourgeoning leader as she finds herself thrust into a new job and a nearly impossible situation that threatens to drain her lifeblood. Conflict rears its ugly head at every turn. Follow her journey as she finds ways to turn conflict into focus, action, and stronger team engagement. You may find situations that are eerily similar to challenges you face at work.
This book is packed with tools, techniques, and ideas that can help any leader who faces a myriad of conflicts in the workplace. Doug Johnston returns with his second business novel to illustrate how conflict can be a blessing in disguise. This book is a heart string in his personal journey to attain such lasting impact for himself and spread the same message to others.
Exponential Leadership, Formulating your Leadership Impact
Exponential Leadership is a business novel, following the journey of a senior business leader as he learns that leadership can be considered from an analytical or a quantitative perspective. Many such senior leaders consider leadership to be something amorphous but here we learn that by gradually building a strong, workable formula one can apply this process to everyday business life, and thus generate powerful, impactful results within our organizations. A common theme across all of author Doug Johnston's work is converting the focus of our thinking from short-term results to long-term impact.